TRACTIONTRACKS®
---
The difference in being stuck -- and being DONE!! .
---
We ONLY use top quality 7/16" manganese alloyed GRADE 80 long link chains which are DESIGNED SPECIFICALLY for use with tires where constant wear is a major factor — not just regular grade 70 case hardened chains that are designed for a straight pull rather than constant movement and wear.
---
No price increase.
---
Your alloy deluxe tracks will be made of 7/16" manganese side chain for the same price that we previously offered our 3/8"!!!
---
Our original Deluxe Skid Steer Tracks have now been upgraded to our new and improved MANGANESE ALLOY DELUXE tracks. They are made from an extremely high quality Manganese 11 aught (7/16") MANGANESE ALLOY SIDE CHAIN that is specifically designed for use with tires and where extreme wear is a major factor.
---
We ONLY use Long Link Side Chain because it is specifically designed for use with tires.
---
In addition the longer link gives a larger area for the welds between the chains and cleats than a standard link chain and therefore allows for 2 full inches of weld on both the inside and outside of each contact point between the cleats and the chain. This equates to 8 full inches of extremely deep, strong, stick welding on every cleat.
Our cleats are "end welded" to the chains to bring the chains further down the sidewalls of the tires for a more secure fit. This "end weld" also protects the tires by covering the entire sharp end of the cleats and only allowing the smooth surface of the chains come in contact with the tires' sidewalls.
---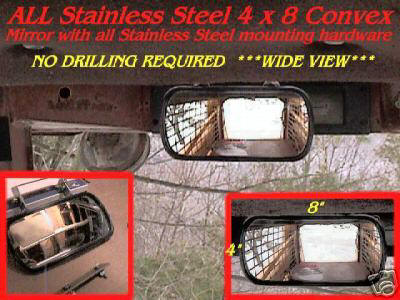 High Quality Equipment Mirrors

Long Lasting
Our mirrors are extremely high quality GLASS (not plastic) so they will not yellow and scratch.
Stainless Steel Housings
Our mirrors are can be used both for work (Bobcat, Backhoe, Forklift, Skid Steer, etc.) and play (Golf Carts, 4-wheelers, Gators, etc.).
Shock Resistant
All our mirrors are set in rubber mounts for shock resistance plus they have a STAINLESS STEEL housing.
Drive Safely
Our mirrors help reduce the blind spots for safety and they are also ISO9001/QS9000 certified.
We have a tree farm with lots of soft muddy soil and we were always getting stuck so I bought a set of these tracks for our skid steer as a last resort before trading in on a new dedicated tracked machine. I wanted to test them out for a year before writing this review to see how they held up. Best money I've spent on upgrading equipment yet. It is a completely different machine now. We have not been stuck one time since installing these tracks and they're super easy to remove and install with the tool they make for it. Customer service is top notch as well. They have answered every question and offered advice on everything I've asked about. 100% satisfied and we will buy another set when these wear out.

 

Customer's machine: New Holland LS180

Hello. I just wanted to say thanks for quick service. The tracks work great. If not for your tractiontracks, my little sawmill operation would have shut down this winter. Thanks again.

 Paul thanks for all your help you were right your product is the greatest thing next to sliced bread !!!!! Can go anywhere with your tracks OUTSTANDING thank for everything from mike at mikes automotive Dunkirk  !!!!!!!!!

Okay...we installed these tracks...WOW...Makes this Skid Steer operate like a Bulldozer! I took it through the swamp, which in past would have placed me in a "Stuck" position immediately...This time, she plowed right on through! My Skid Steer is a 2010 Mustang 2044...she's a 50 HP Yanmar. I only had to flip the rims around to create more clearance. Even with 50 HP...she has no problem pushing through the thickest "Mush" we've encountered. These are without question the best made, best priced OTT! Best Regards,

Excellent product! Excellent price! Excellent customer service on a Saturday! Accidentally purchased 2 sets online on a Saturday so I called expecting to leave a voicemail. The owner answered my call and refunded one set while we were on the phone. These tracks were just what I needed for the wet black clay and 3 years of cow manure I need to move. No more getting Stuck! Thanks!

Just wanted to comment on your Traction Tracks. They have really improved the ability to use my skidsteer. Even in wet sticky clay I can now continue to work, as before the tires would "load-up" and its was like working on ice. I would recommend Traction Tracks to anyone.

Dear Sir, I purchased a set of your tracks a little over a year ago and all I can say is that every time I use them I am even more impressed with them then the time before. I have literally been in swamps where the mud was higher then my 773's bucket but the machine just kept going. The "mini bulldozer" statement you have on your webpage is an understatement, a dozer can't even think about going where I can go with these tracks. I have even made and won several bets on jobsites with co-workers who didn't think I would make it thru some areas and up a muddy and slippery hill. I also use my machine in several different environments and I need to remove the tracks and reinstall them quite often...your instructions said that the first installation would take a little while and they were right, but now I can put them on less than 15 minutes and remove them in literally a minute. Anyway, I have just purchased another machine, it is a New Holland LS-180 and want to buy a set for it as well. I am also wondering if you would be interested in setting me up a dealer in my area because I am constantly being asked where to get them from other owners (I have been giving them your website and I know at least three of them have purchased a set from you already). Please let me know and in the meanwhile please send me a paypal invoice for my a set my new machine. My shipping address is below. This machine has 12 x 16.5 HD tires. Not to rush you but ASAP would be appreciated because we are in the middle of a large job and need both machines and it is also the middle of mud season here so the new machine is worthless without tracks. Follow-up: We put them on the new machine the same day they arrived and they WORK GREAT (as expected) and I have already sold a set!! Please send me another paypal invoice for them (Bobcat 753 10 x 16.5) and looks like another guy will be buying a set this coming Friday as well (he is waiting for payday). I am going to show them to a couple of other landscapers that I know they will all want a set as soon as they see me using ours in this mud hole that will eventually be a foundation. I will be in contact you with the orders shortly.

Wow. Got my tracks in 28 hours. These tracks work great.I'm digging a 32 x 18 foot hole 3 ft. deep going through a foot of mud with ease. Nice product. Yes, they fit when I flipped the wheels on my New Holland. I'll send a picture tomorrow. Thanks.

Tracks fit well and work GREAT. Knee-deep mud without getting stuck! Thanks

They really are just exactly what I needed and at a great price, too.

WOW! I'm shocked! I'm impressed."BOB" is like a dozer now. Dear Paul, Larry's reaction to the tracks were "WOW! I'm shocked! I'm impressed."BOB" is like a dozer now" He said it did not spin at all........ He is totally amazed with the performance of the tracks. He is totally satisfied. You have another happy customer to add to your list. THANK YOU again for the product and all your kindness. It was a pleasure for us to do business with you.

Hope you enjoyed your holidays and hope that all is well. I purchased a set of tracks from you at the beginning of August of this year and just wanted to tell you that they are GREAT!!!! Its nice to see the new web-site design...looks good. I've had my case 1845c push and maneuver up and through huge piles of horse manure that have been dumped off the edge of a 10 to 15 foot drop off. These tracks work great!!!!!!!
Snow Is No Challenge
With this winter proving to be a serious one in much of the country, we thought you'd enjoy seeing just how well our TractionTracks can handle even a major snowstorm.
Special thanks to Skye Farnam for uploading the incredible video.
Don't forget, we always appreciate seeing customer videos and will happily feature them on our website.