Extremely high quality GLASS (not plastic so they will not yellow and scratch)

Safety first.
Our mirrors help reduce the blind spots for safety and they are also ISO9001/QS9000 certified. You'll find more details about our mirrors in our new online store. We accept PayPal.
Rubber mounts.
All our mirrors are set in rubber mounts for shock resistance plus they have a STAINLESS STEEL housing.The nuts and bolts are STAINLESS STEEL so these mirrors will give you years of service and always look great.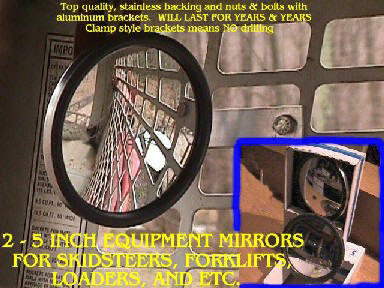 High Quality Overhead Mount 4 x 8 inch WIDE ANGLE Rear-View Mirrors
These mirrors are for all types of skid steers, forklifts, loaders, and etc. with all mounting hardware and brackets included. This is an extremely high quality GLASS, 4 inch x 8 inch convex mirror which provides a very sharp, clear view (NOT plastic so they will NOT yellow and scratch and loose clarity) and it is set in a rubber mount for shock & vibration resistances, plus it has a STAINLESS STEEL housing (not tin so they will not rust out).

The mirror pivots forwards and backwards on its "swing style" mount and can be adjusted left or right with the main back mount for the best rear view angle positioning. Once you position and aim the mirror to your taste, our mount style allows you to completely LOCK in that position (if so desired) so that it will not loose it's adjusted view from the constant vibration and bouncing around that anyone who operates a skid steer is well aware of.

The MOUNTING BRACKET and the BACKING BRACKET are also made from STAINLESS STEEL, as are ALL of the nuts, washers and bolts. TOP QUALITY + STAINLESS STEEL HOUSING & HARDWARE = LONG LIFE & NO RUST! This mirror will give you years of service and always look great.
This high quality mirror comes with all the needed hardware to mount it to your machine (4 bolts, 2 nuts, 2 lock washer, 2 locking nuts, plus a backing plate and complete instructions). The bracket is designed to clamp thru the grate on the top of the cage of the machine so no drilling is required and the only tools you will need to install them are a couple of 7/16" wrenches.... and of course for machines without a cage it can also be mounted solid by screwing it directly to any desired location (please note, we provide all stainless steel nuts and bolts for attaching the mirror to the cage but if you decided to screw it directly to another location then you will need to provide a couple of your own sheet metal screws).

The mounting bracket is designed for machines without glass enclosures or for machines that are equipped with a glass enclosure as long as the glass is approx. 3/4" ABOVE the overhead cage. If the glass is 3/4" above the cage you will be able to mount the mirror without glass removal. If your ceiling glass is BELOW the top of the cage or if it is less than 3/4" above the cage, the mirror can still be installed but PLEASE email us for more specific instructions about how you will have to mount it BEFORE bidding.

This mirror will greatly help reduce the blind spots for safety and they will give you a nice wide rear viewing area. It is also ISO9001/QS9000 certified.